Publications
Publications banner, CSS and javascript
Forskningsresultater fra Nor-COAST
Her presenterer vi resultater fra studiene våre i et lettlest format.
---
Articles published in 2021
Articles published in 2021
Articles published in 2020
Articles published in 2020
Purpose: The Norwegian Cognitive Impairment After Stroke (Nor-COAST) study aimed to estimate the prevalence and incidence of neurocognitive disorder in an unselected stroke cohort. The aim of the present study was to investigate whether selection bias occurred by comparing baseline characteristics from participants with non-participants in Nor-COAST.
Patients and Methods: Nor-COAST is a prospective cohort multi-center study, recruiting participants from five Norwegian hospitals. Patients with the diagnosis of acute stroke were screened for inclusion. Baseline data from the participants recruited between May 2015 and March 2017 were compared to corresponding data from those not participating in Nor-COAST but registered in the Norwegian Stroke Registry. Regression analysis was used to assess whether age, stroke severity, sex and stroke subtype were independently associated with inclusion in the study.
Results: Out of 2505 available patients, 815 (32.5%) were included in Nor-COAST. There were no differences between participants and non-participants with respect to age (mean (SD) age 73.5 (11.7) versus 74.2 (14.5) years) or sex (44.8% versus 46.9% women). A significantly larger proportion of the participants were independent prior to stroke (87% versus 78%), had mild strokes (69% versus 55%) and suffered from cerebral infarction (90% versus 84%). The regression analysis showed decreased odds ratio (OR) of being included for those with higher degree of pre-stroke dependency (OR 0.895, 95% CI 0.825 to 0.971, p=0.007) and a more severe stroke (OR 0.952, 95% CI 0.939 to 0.966, p< 0.001).
Conclusion: The participants in Nor-COAST had a better pre-stroke health condition and milder strokes compared to non-participants. However, the participants should be regarded as representative of the majority of the stroke population which suffers from mild strokes. Nevertheless, baseline information for non-participants should be available also in future clinical studies to make it easier to identify which part of the stroke population the results can be generalized to.
The Risk of Selection Bias in a Clinical Multi-Center Cohort Study. Results from the Norwegian Cognitive Impairment After Stroke (Nor-COAST) Study.
Journal: Clinical Epidemiology
Published 1st of December 2020
Background: and purpose Sedentary behaviour is a risk factor for vascular disease and stroke patients are more sedentary than their age-matched peers. The association with glucose levels, as a potential mediator, is unclear, and we have investigated the association between long-bout sedentary behaviour and long-term glucose levels in stroke survivors.
Methods: This study uses data from the Norwegian Cognitive Impairment After Stroke study, a multicentre cohort study. The patients were recruited at hospital admission for acute stroke, and the follow-up was done at the outpatient clinic. Sedentary behaviour—being in a sitting or reclining position—was registered 3 months after stroke using position transition data from the body-worn sensor activPAL attached to the unaffected thigh. A MATLAB script was developed to extract activity data from 08:00 to 10:00 for 4 days and to categorise the data into four bout-length categories. The primary outcome was glycated haemoglobin (HbA1c), analysed at 3 months. Regression models were used to analyse the association between HbA1c and sedentary behaviour in the whole population and stratified based on a diagnosis of diabetes mellitus (DM). Age, body mass index and the use of antidiabetic drugs were added as covariates into the models.
Results: From a total of 815 included patients, 379 patients fulfilled the inclusion criteria for this study. We found no association between time in sedentary behaviour and HbA1c in the whole stroke population. We found time in sedentary behaviour in bouts of ≥90 min to be associated with a higher HbA1c in patients with DM.
Conclusion: Long-bout sedentary time is associated with a higher HbA1c in patients with DM 3 months after ischaemic stroke. Future research should investigate the benefit of breaking up sedentary time as a secondary preventive measure.
Is long-bout sedentary behaviour assicated with long-term glucose levels 4 months after acute ischaemic stroke? A prospective observational cohort study.
Journal: BMJ Open
Published 22nd September 2020
Background: Studies regarding adequacy of secondary stroke prevention are limited. We report medication adherence, risk factor control and factors influencing vascular risk profile following ischaemic stroke.
Methods: A total of 664 home-dwelling participants in the Norwegian Cognitive Impairment After Stroke study, a multicenter observational study, were evaluated 3 and 18 months poststroke. We assessed medication adherence by self-reporting (4-item Morisky Medication Adherence Scale) and medication persistence (defined as continuation of medication(s) prescribed at discharge), achievement of guideline-defined targets of blood pressure (BP) (<140/90 mmHg), low-density lipoprotein cholesterol (LDL-C) (<2.0 mmol L−1) and haemoglobin A1c (HbA1c) (≤53 mmol mol−1) and determinants of risk factor control.
Results: At discharge, 97% were prescribed antithrombotics, 88% lipid-lowering drugs, 68% antihypertensives and 12% antidiabetic drugs. Persistence of users declined to 99%, 88%, 93% and 95%, respectively, at 18 months. After 3 and 18 months, 80% and 73% reported high adherence. After 3 and 18 months, 40.7% and 47.0% gained BP control, 48.4% and 44.6% achieved LDL-C control, and 69.2% and 69.5% of diabetic patients achieved HbA1c control. Advanced age was associated with increased LDL-C control (OR 1.03, 95% CI 1.01 to 1.06) and reduced BP control (OR 0.98, 0.96 to 0.99). Women had poorer LDL-C control (OR 0.60, 0.37 to 0.98). Polypharmacy was associated with increased LDL-C control (OR 1.29, 1.18 to 1.41) and reduced HbA1c control (OR 0.76, 0.60 to 0.98).
Conclusion: Risk factor control is suboptimal despite high medication persistence and adherence. Improved understanding of this complex clinical setting is needed for optimization of secondary preventive strategies.
Journal: Journal of Internal Medicine
Published 2nd of August 2020
Background: Post-stroke cognitive impairment (PSCI) is common, but evidence of cognitive symptom profiles, course over time, and pathogenesis is scarce. We investigated the significance of time and etiologic stroke subtype for the probability of PSCI, severity, and cognitive profile.
Methods: Stroke survivors (n = 617) underwent cognitive assessments of attention, executive function, memory, language, perceptual-motor function, and the Montreal Cognitive Assessment (MoCA) after 3 and/or 18 months. PSCI was classified according to DSM-5 criteria. Stroke severity was assessed with the National Institutes of Health Stroke Scale (NIHSS). Stroke subtype was categorized as intracerebral hemorrhage (ICH), large artery disease (LAD), cardioembolic stroke (CE), small vessel disease (SVD), or un-/other determined strokes (UD). Mixed-effects logistic or linear regression was applied with PSCI, MoCA, and z-scores of the cognitive domains as dependent variables. Independent variables were time as well as stroke subtype, time, and interaction between these. The analyses were adjusted for age, education, and sex. The effects of time and stroke subtype were analyzed by likelihood ratio tests (LR).
Results: Mean age was 72 years (SD 12), 42% were females, and mean NIHSS score at admittance was 3.8 (SD 4.8). Probability (95% CI) for PSCI after 3 and 18 months was 0.59 (0.51–0.66) and 0.51 (0.52–0.60), respectively and remained constant over time. Global measures and most cognitive domains were assessed as impaired for the entire stroke population and for most stroke subtypes. Executive function and language improved for the entire stroke population (LR) = 9.05, p = 0.003, and LR = 10.38, p = 0.001, respectively). After dividing the sample according to stroke subtypes, language improved for ICH patients (LR = 18.02, p = 0.003). No significant differences were found in the severity of impairment between stroke subtypes except for attention, which was impaired for LAD and CE in contrast to no impairment for SVD (LR = 56.58, p < 0.001).
Conclusions: In this study including mainly minor strokes, PSCI is common for all subtypes, both early and long-term after stroke, while executive function and language improve over time. The findings might contribute to personalizing follow-up and offer new insights into underlying mechanisms. Further research is needed on underlying mechanisms, PSCI prevention and treatment, and relevance for rehabilitation.
Post-stroke cognitive impairment – impact of follow-up time and stroke subtype on severity and cognitive profile in a minor stroke population: The Nor-COAST study.
Journal: Frontiers neurology
Published 17th of July 2020
Introduction: Post-stroke neurocognitive disorder (NCD) is common; prevalence varies between studies, partially related to lack of consensus on how to identify cases. The aim was to compare the prevalence of post-stroke NCD using only cognitive assessment (model A), DSM-5 criteria (model B), and the Global Deterioration Scale (model C) and to determine agreement among the three models.
Methods: In the Norwegian Cognitive Impairment After Stroke study, 599 patients were assessed 3 months after suffering a stroke.
Results: The prevalence of mild NCD varied from 174 (29%) in model B to 83 (14%) in model C; prevalence of major NCD varied from 249 (42%) in model A to 68 (11%) in model C. Cohen's kappa and Cohen's quadratic weighted kappa showed fair to very good agreement among models; the poorest agreement was found for identification of mild NCD.
Discussion: The findings indicate a need for international harmonization to classify post-stroke NCD.
Impact of different methods of defining post-stroke neurocognitive disorder: The Nor-COAST study.
Journal: Alzheimer's Association
Published 16th of March 2020
Articles published in 2018
Articles published in 2018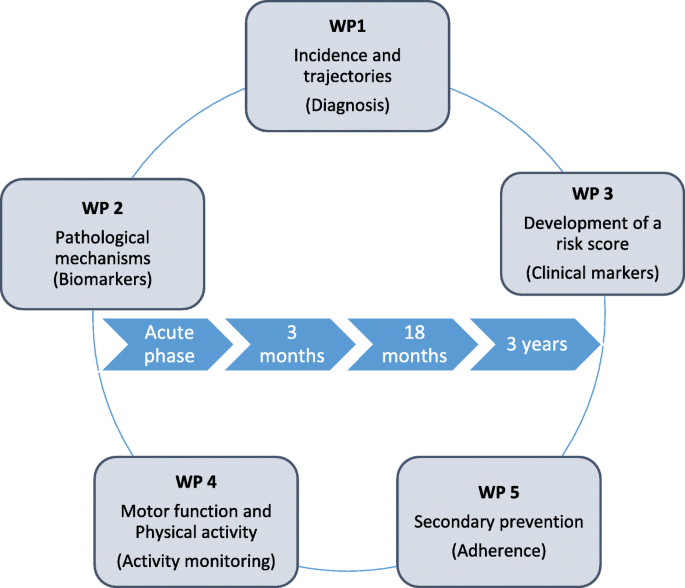 Background: Early and late onset post-stroke cognitive impairment (PCI) contributes substantially to disability following stroke, and is a high priority within stroke research. The aetiology for PCI is complex and related to the stroke itself, brain resilience, comorbid brain diseases, prestroke vulnerability and complications during the hospital stay. The aim of the Norwegian Cognitive Impairment After Stroke study (Nor-COAST) is to quantify and measure levels of cognitive impairments in a general Norwegian stroke population and to identify biological and clinical markers associated with prognosis for cognitive disorders following incident stroke. The study will be organised within five work packages: 1) Incidence and trajectories 2) Pathological mechanisms 3) Development of a risk score 4) Impact of physical activity and 5) Adherence to secondary prevention.
Methods: Nor-COAST is an ongoing multicentre (five participating hospitals), prospective, cohort study with consecutive inclusion during the acute phase and with follow-up at three and 18 months, and at three years. Inclusion criteria are stroke defined according to the WHO criteria. During the recruitment period from 18.05.2015 to 31.03.2017, 816 participants have been included. Cognitive impairment will be classified according to the DSM-5 criteria using a consensus group. Cognitive function is assessed by a standardised neuropsychological test battery, the Montreal Cognitive Assessment, Trail making A and B, ten-word immediate and delayed recall test, the Controlled Oral Word Association, Global Deterioration Scale and proxy based information by and the Ascertain Dementia 8 item informant questionnaire. Biomarkers include magnetic resonance imaging, routine blood samples and bio-banking. Clinical assessments include characteristics of the stroke, comorbidity, delirium, frailty and tests for cognitive and physical function, sensor based activity monitoring and adherence to secondary prophylaxis.
Discussion: Nor-COAST is the first Norwegian multicentre study to quantify burden of PCI that will provide reliable estimates in a general stroke population. A multidisciplinary approach aiming to identify biomarkers and clinical markers of overall prognosis will add new knowledge about risk profiles, including pre-stroke vulnerability and modifiable factors such as physical activity and secondary prophylaxis of relevance for clinical practice and later intervention studies.
The Norwegian Cognitive Impairment after stroke study (Nor-COAST): Study protocol of a multicentre, prospective cohort study.
Tidsskrift: BMC Neurology
Publisert 26 November 2018
Media articles
Vil forbedre behandlingen av hjerneslagpasienter
Kognitiv svikt etter hjerneslag blir ofte oversett av helsevesenet, noe som rammer pasientene. Det vil forskerne bak Nor-COAST studien gjøre noe med.
Bedre behandling etter hjerneslag
Kognitiv svikt etter hjerneslag blir ofte oversett av helsevesenet, noe som får konsekvenser for pasientene. Det vil forskerne bak Nor-­COAST­-studien gjøre noe med.
MR-bilder av hjernen kan forutsi demens etter hjerneslag
Flere pasienter overlever hjerneslag på grunn av bedret behandling. Derfor lever flere pasienter og pårørende med konsekvensene etter en slik alvorlig hendelse. En fersk studie viser at MR-bilder av hjernen, allerede kort tid etter hjerneslaget, kan hjelpe oss å identifisere hvilke pasienter som står i faresonen for kognitiv svikt.
Forskere kan forutsi mental svikt etter hjerneslag
Ved hjelp av MR-bilder kan de se at pasienter som utviklet kognitiv svikt, allerede hadde forandringer i hjernen før slaget.
---
List of scientific publications
List of scientific publications
---
2021
---
2020
---
2018