Globalisation and Sustainable Development – Master programme – 2-years – Trondheim
MENU
Master of Science in Globalisation and Sustainable Development
Master's Degree Programme, 2 years, Trondheim
Master of Science in Globalisation and Sustainable Development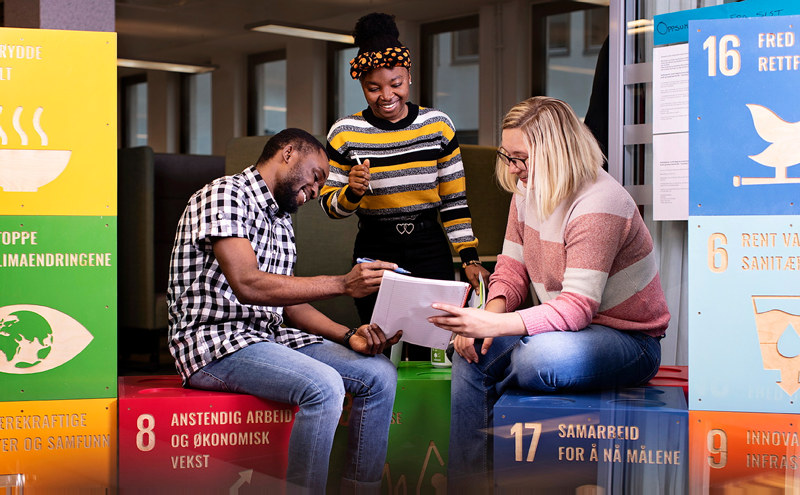 studyprogramme-facts-portlet
Facts



Master




Full-time

15. April

Application deadline
We are currently planning for physical meetings and activities in the semester start. All activities will be arranged in accordance to the latest corona regulations. Be aware that there may be changes to the program.
Welcome to study start at NTNU
Welcome to study start at NTNU
The semester starts off with the Matriculation ceremony, a get together and a lunch with the Department of geography, Monday 16th August.
Due to the current situation with the pandemic, this year's Matriculation ceremony  will have to be enjoyed digitally. All new master students in Globalisation and Sustainable Development are invited to watch the live-stream of the ceremony this day.
Time: Monday 16th August at 10:00
Location: Di42, Dragvoll Campus
Program:
10.00 – 10.30 Matriculation ceremony. The ceremony starts at 10.00 and will be shown at Campus Dragvoll. There you'll meet your fellow students and other international students at the faculty. The ceremony will be texted in English.
10.30 – 11.30 Get together. We go outside where you will be divided into smaller groups, where you'll get to know other students in your programme, the programme coordinator, digital buddy and study advisor. Here we'll also talk about the program for the coming weeks.
11.30 – 12.30 Lunch. We invite you to join us for lunch after the get together.

Information meetings for international students by the Office of International Relations
The Office of International Relations will organize information meetings and online Q&As about how to register for courses, exams and other practical NTNU matters. The sessions will be live-streamed, but it will also be possible to watch them later at your convenience.
You will find more information and the programme here. 
Meet the different student organizations  on campus
In parallel to the digital meetings for international students there is an arrangement at Dragvoll Campus from 09:00 - 15.00 where different student organizations will be present to showcase the variety of activities and organizations you can engage with outside your studies.
You will find more information about the 'Get-started'-day here. (Link comming soon)
NTNU, and Trondheim in particular, is well-known for a vibrant and lively student community with a strong volunteerism spirit - as a result, there are literally hundreds of different associations, clubs, sports teams and organizations you can join in your free time, which is an excellent way to make friends.
Most of these will be present on campus on August 17, and will have stands outdoors where you can wander about and talk to representatives from any organization that catches your fancy. Representatives from certain services at NTNU and Sit, such as the Office of International Relations, will also be present.
The Office of International Relations will give a presentation (on campus) in English on the various student associations and organizations available.
Information meeting about MSc in Globalisation and Sustainable Development. The meeting will be held by the programme leader and the study advisor.
Time: Wednesday 18th August at 10:15 - 12:00
Location: D150, Dragvoll Campus
About the program of study
Education plan
Courses
Other practical information
Q&As
We will be hosting a joint master kickoff for all new master students at the Department of Geography.
Time: Monday August 23 at 12:15 - 15:00
Location: Auditorium DI41 (Dragvoll campus - Sports centre)
Get to know the Department of Geography
Awareness-raising related choice of methods course for the first semester
Introduction to Research Design
Why it is important to start thinking about your master's thesis early

Program:
12.15 – 12.30 Presentation of the Department of Geography, by Head of Department
12.30 – 13.00 How to do science - theory and practice by Chantel Nixon
Pause
13.15 – 13.35 Presentation of GEOG3005 Qualitative Methods – Elizabeth Barron
13.40 – 14.00 Presentation of GEOG3006 Quantitative Methods – Thomas Halvorsen
Pause
14.15 – 14.35 Presentation of GEOG3523 GIS Data Capture and Mapping – Michael Ogbe
14.40 – 15.00 Presentation by student - Student experience
More information comming soon.
Checklist and manage your stay
The Office of International Relations has a comprehensive checklist of what you need to do as a new international student at NTNU:
Checklist for new international students
You will also find an overview of what you need to do to prepare the semester here:
Special needs students or students with disabilities can get help with individual accommodations. This encompasses measures such as a personal mentor through NAV and specially equipped reading room places.
Globalisation and the increased interconnectedness created by the rapid flow of capital, people, goods, images and ideologies across national boundaries requires a new set of specialised educational tools. The two-year Master programme in Globalisation and Sustainable Development prepares students to analyse the complex interactions between the political, economic, cultural and social trends which are having profound effects on our contemporary world.
---
Career Prospects - MGLOPOL
This Master's programme is designed to provide it`s students with specialist knowledge and transferable skills to pursue careers in a variety of different global corporations, non-governmental or governmental organisations.
---
Programme components - MGLOPOL
The master's programme in Globalisation and Sustainable Development involves two years of full-time studies in Trondheim. The workload for a full-time student for one academic year is 60 credits.
The programme is structured around core courses and elective courses (7.5 credits). In addition, the programme consists of an internship (30 credits) and a master's thesis (30 credits).
---
studyprogramme-facts-portlet
Facts
Programcode:

MSGLOPOL

Degree type:

Master of Science in Globalisation and Sustainable Development

Credits:

120

Unit: Department of Geography
Location:

Trondheim
Krysspublisert! IKKE rør! Application deadlines