Bodily Learning – Research – Department of Teacher Education
Research – Department of Teacher Education
Bodily Learning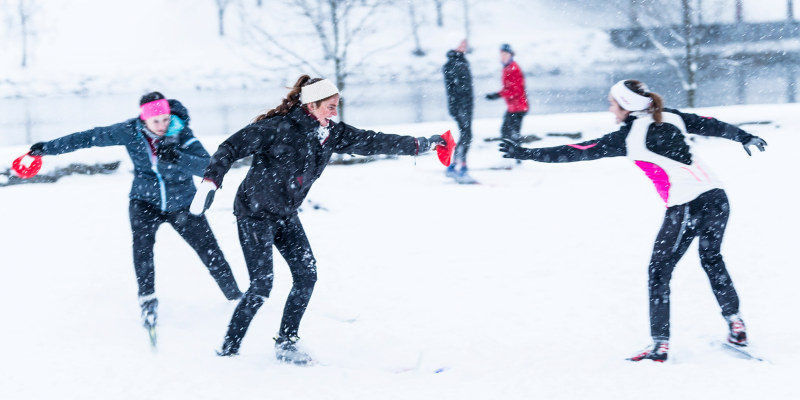 About the research group
An interest in how the body is involved in learning processes motivated the formation of this research group. Bodily learning includes the understanding that learning happens in the human body and between humans (and non-humans) in social as well as spatial realities. Bodily learning takes place through activity and visible movements, as well as in micro-movements, affects and intensities deep inside and between bodies. How learning involves the body still needs to be thematized, investigated and theorized.
Blog and podcast
Professor Gunn Engelsrud is one of the authors behind the blog Rett fra kroppen (in Norwegian). She has also participated in an episode of the podcast Viten + snakkis (in Norwegian).
Ongoing research projects
Improvisation, dance and physical education teacher education
Hilde Rustad (PhD), post.doc in dance, Norwegian School of Sports Science
The experience of improvisation in dance is closely connected with perception. Choices in dance improvisation always involve bodily actions, and are taken in situations in which the dancer is most often already moving improvising. Choice in dance improvisation is situation dependent as well as dependent on the possibilities the situation in question offers, as well as on the dancing person's movement repertoire. The purpose of this project is to examine how choice and freedom as central elements in improvisation can be understood in physical education teacher education in connection with the phenomenological concepts of body image and body schema.
Setting German lessons in motion
Karen Bauer (PhD), Associate professor, Department for Teacher Education, NTNU
How do we best learn a foreign language? How do we learn new vocabulary? Research in cognitive psychology has shown that learning through movement is an efficient learning method. In addition, public health authorities warn that long-lasting sitting may lead to psychomotor retardation. As a lecturer in foreign language teacher training, I am interested in the question of how movement can be incorporated in language teaching. In this research project, which is being carried out in a secondary school in Trondheim, I aim to study to what extent German language learners remember words better if learning them is combined with movement. Furthermore, I ask if there is a difference if the participants develop movements themselves or if they are teacher-initiated.
Relative age effect and biological maturity status in physical education: Do more mature pupils obtain a higher mark?
Ruben Vist Hagen, PhD candidate in physical education and sports education
The Norwegian physical education curriculum highlights learning through the use of the body and promotes participation based on individual abilities and experience of mastery. Thus, pupils should have equal opportunities to obtain good marks. Due to the physical component related to marking, alongside the use of performance ratings, this might not be the case. The rate and timing of maturation differ among individuals, especially during the adolescent growth spurt, which may lead to significant individual differences in physical attributes associated with improved performance. Is bodily learning misunderstood as an assessment of improved physical attributes where more mature pupils are rewarded?
Teacher students' affective and inter-affective experiences in their teaching practice
Trine Ørbæk (PhD), Assistant Professor in Pedagogy at the University of South-Eastern Norway
As a teacher educator in pedagogy in primary and lower secondary school teacher education, I am interested in how/if bodily awareness may be relevant as an indicator of education quality and professional competence. Inspired by pedagogical, pragmatic and phenomenological concepts, I investigate teacher students' affective and interaffective experiences in their teaching practice. By analyzing how students write, perform and talk about their experiences, I aim to discuss the following research question: How might bodily awareness have an impact on the students' teaching practice, and how will these experiences influence the development of their teacher identity?
The Salamander Night - from exhibition to performance
Anne-Lise Heide, Associate Professor in Music at the Department for Teacher Education, NTNU
In this research project, three workshops in the school subject music with schoolchildren are developed based on the experience of an exhibition: the artwork Salamander Night by Kjell Erik Killi Olsen. In the research project, I describe and discuss how bodily learning is practised in music education with a group of student teachers in music. In the process, they work with several factors in the new Norwegian curriculum for music, and the focus is on experience, exploration, composition, and creative creation. How do the students experience exploring the elements of music bodily and creatively? Will bodily learning open up new pedagogical ways of creating knowledge in music?
«Build-a-Persona» – performative learning in a digital society
Kristian Nødtvedt Knudsen (PhD), Associate Professor in Drama/Theatre in education at the Department for Teacher Education, NTNU
Egil Reistadbakk, Assistant Professor in Music at the Department for Teacher Education, NTNU
The purpose of the project is to explore how social media can be taught and learned through social media and arts education (Drama/Theatre and Music). Based on a performative approach to research, teaching and learning (Østern & Knudsen, 2019) and theory from scholars such as Selander (2017) and Østern et al. (2019), we wish to develop didactic designs for teachers in general. By creating performative personas on social media (Fridtjof, Dansen and Polfar) and performing as them, we want to stage the didactic design in the crossover between social media and performance. The happenings/performances will be carried out in early autumn 2019.
The Pedagogue-body. A dance-based study of Kindergarten teachers' bodily professional knowledge.
Ida Pape Pedersen, PhD Candidate, Faculty of Education and Arts, Nord University
With her PhD –project (2018-2021) she aims at exploring how body and movement can be an agent of significance for kindergarten teachers' bodily professional knowledge and development. The main focus is dance as professional development for kindergarten teachers and bodily learning within the kindergarten teacher profession. The ambition is to contribute with new perspectives on how an educational design project can be carried out in a design team consisting of a researcher-kindergarten teacher educator and a dance teacher, and how bodily professional knowledge can be developed in the meeting between dance pedagogy and the kindergarten teacher profession. The study is placed between embodied pedagogy and kindergarten/toddler pedagogy and can be defined under the umbrella term Art-Based Research (ABR).
Master's student
Brit Rian, a student in the Master of Science in Didactics – Arts Education programme in 2017-19, is part of the Bodily Learning research group. In her project for the master's degree, she is investigating how to enhance motivation for learning by including bodily ways of working. Her supervisor is Kristian Nødtvedt Knudsen.
Passed events
The mini conference is arranged by the research group Bodily learning at NTNU, Campus Kalvskinnet, Department for Teacher Education.
The conference is free and open for all, also for those not belonging to the research group.
Keynote speakers
Keith Davids (Sheffield Hallam University, UK)
Eeva Anttila (UniArts Helsinki, FI)
Biljana Fredriksen (University of South-East Norway, NO)
Location:
Campus Kalvskinnet, Lysholmbygget, room LY36
Registration
For registration, contact Øyvind Bjerke no later than 10 October 2019.
Preliminary program
09.00-09.30 Bodily/artistic start with Jon Bojer Godal, a craftsman who has worked especially with the material wood through a long life
09.30–10.15 Eeva Anttila "Dance as bodily learning"
10.30–11.15 Keith Davids "An Ecological Dynamics rationale for integrating action, cognition and perception in learning designs in sport: A basis for self-regulation"
11.30–12.15 Biljana Fredriksen "Embodied learning and ecological sustainability"
12.15–13.15 LUNCH*
13.15–16.00 Response groups in 3 groups led by Keith Davids/Eeva Anttila/Biljana Fredriksen
16.00–17.00 Plan for further work with the edited book, questions and closing of the mini conference
The mini conference is arranged as part of the research group's work with the edited book «Kroppslig læring» at Universitetsforlaget. The three response groups from 13.15 means that the three keynote speakers give response to the authors on the chapters-in-progress in the book. The response groups sessions are open for all.
*We treat coffee, snacks and simple lunch on all registered participants.
Leaders of the research group and organizers of the mini-conference
Tone Pernille Østern (NTNU)
Øyvind Bjerke (NTNU
Anne Grut Sørum (NTNU)
Gunn Engelsrud (NIH Norwegian School of Sport Sciences)
External members of research group
External members of research group